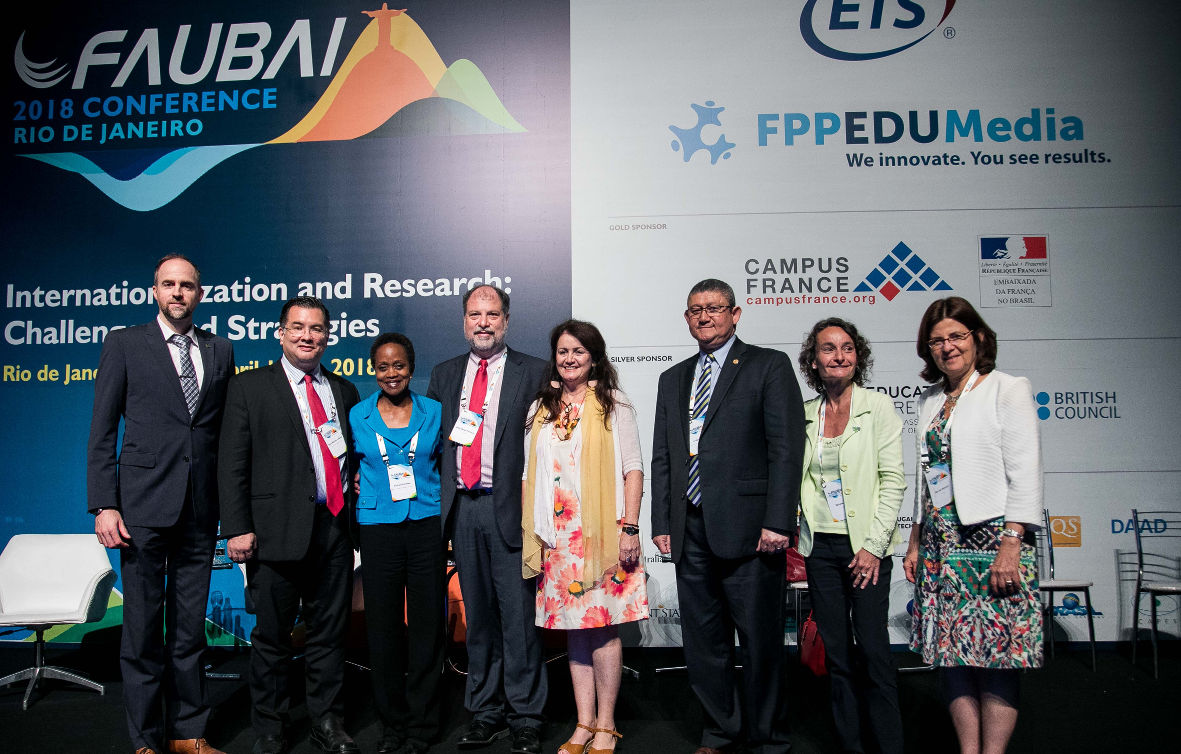 Versão em português
International conference held in Rio de Janeiro included workshops, speeches and sessions on internationalization of higher education.
The Brazilian city of Rio de Janeiro hosted the 30th Annual Conference FAUBAI 2018 – Brazilian Association for International Education, from April 14 to 18, which brought together representatives involved in the internationalization of higher education.
The Conference was attended by over 770 participants – half of whom were from 29 countries, representing all continents1 – among International Officers, Presidents and Vice-Presidents, of HEIs, representatives from international organizations, diplomats, governments and companies, as well as specialists, teachers, researchers from Brazil and abroad.
The general theme was Internationalization and Research: Challenges and Strategies and discussions were held on issues related to implement comprehensive internationalization policies and the attractiveness of Brazilian research and Brazil as a destination for international students and researchers.
Thirteen pre-conference workshops were held and provided opportunities for participants to discuss issues related to managing an international office, Higher education internationalization strategy, Policies for the reception of refugees in higher education institutions, English as a medium of instruction, Inclusion and international mobility of students and faculties with special needs, Latin-American universities and rankings, among others.
At the opening session of FAUBAI 2018, Angelica Dass, a Brazilian artist based in Spain presented her award-winning Humanae Project, which photographs people in different parts of the world and catalogs the various skin tones, affirming the richness of diversity and seeking to overcome pre-established paradigms in the collective unconscious. The session began by the UERJ Altivoz Choir, with the participation of the President of FAUBAI, the President of State University of Rio de Janeiro (UERJ) and the Ambassador of the United States in Brazil.
As the most important event on international education in Brazil and one of the largest in Latin America, FAUBAI 2018 addressed themes such as Impacts of International Cooperation on Research, Internationalization: Why and how? and Rankings: What are they good for?
FAUBAI 2018 welcomed world famous specialists in the area of the internationalization of higher education, such as John Hudzik, former Vice-Rector of Global Engagement and Strategic Projects of Michigan State University and author of the book Comprehensive Internationalization: Institutional pathways to success and Hans de Wit, Director of the enter for International Higher Education at Boston College and one of the most well-known specialist in the field.
In 48 parallel sessions, FAUBAI 2018 involved a total of 126 scientific papers and presentations of experiences and good practices, covering issues related to the theme of the event and the internationalization of higher education in general.
During FAUBAI 2018, a Presidents' Day – an exclusive meeting of University Presidents -, was held on Global Commitment: Relevance and Impact, attended by more than 50 Presidents from Brazil and abroad.
FAUBAI 2018 also hosted an Official Meeting of the Network of International Education Associations (NIEA), which brings together representatives of the most important international education associations in the world, working towards a more inclusive, horizontal and diversified internationalization.
The final plenary session Global Dialogue brought together the President of FAUBAI along with representatives of important international education associations such as the NAFSA – Association of International Educators (the largest association for international education in the world), EAIE – European International Education Association, IEASA – International Education Association of South Africa, CONAHEC – Consortium for North American Higher Education Collaboration, OUI-IOHE – Inter-American Organization for Higher Education, RedCIUN-CIN-International Cooperation Network of Argentine National Universities and Campus France Agency. They jointly highlighted the role of associations in empowering their affiliates and raising awareness among governments in a world that is undergoing such rapid and profound transformations and still remains highly unequal, and they recognized the existence of different ways of understanding and undertaking the internationalization of higher education, which should always be at the service of improving people's living conditions.
In a special context for the internationalization of Higher Education, due to the growing international mobility and research cooperation in several areas, FAUBAI 2018 was a privileged moment for the development of strategic partnerships and discussion on the world agenda of internationalization of Higher Education with some of the main players and protagonists of the International Education of the world.
During the five days of the event, participants were able to develop partnerships, promote their programs, services and expertise in international education, obtain visibility from the main actors of Higher Education in Brazil and abroad, as well as deepen their knowledge on the current challenges of education International.
The next annual conference FAUBAI 2019 will take place in Belem, State of Para, in the Amazon region, from April 13 to 17, 2019.
1 Countries represented: Argentina, Australia, Austria, Belgium, Canada, Colombia, Eritrea, Finland, France, Ghana Germany, Haiti, Holland, Hungary, India, Ireland, Italy, Nigeria, Norway, New Zealand, Peru, Portugal, South Africa Spain, Sweden, Ukraine, United Kingdom, United States e Uruguay.
Sponsor FAUBAI 2018
Conference received the sponsorship of important institutions involved in the internationalization of higher education, such as ETS – Educational Testing Service, FFP EDU Media, Campus France, US Embassy, Education in Ireland, British Council, New Zealand Education, Embassy of France, BMI, DAAD – German Academic Exchange Service, Embassy and Consulate of Australia, QS Intelligence Unit, SEPIE – Spanish Service for the Internationalization of Education, Portugal Polytechnics, General Consulate of Canada in São Paulo, AUF – Francophone University Agency , Victoria University (New Zealand), Kent State University (USA) and Pontifical Catholic University of Parana (Brazil), as well as the CAPES – Coordination for the Improvement of Higher Education Personnel, and the Brazilian Ministry of Education.
About FAUBAI
Founded in 1988, the Brazilian Association for International Education – FAUBAI is a non-profit organization that brings together more than 250 International Officers from public and private Higher Education Institutions.
FAUBAI aims to promote the internationalization of Brazilian Higher Education, the capacity building of its members and the dissemination of the Brazilian higher education system abroad.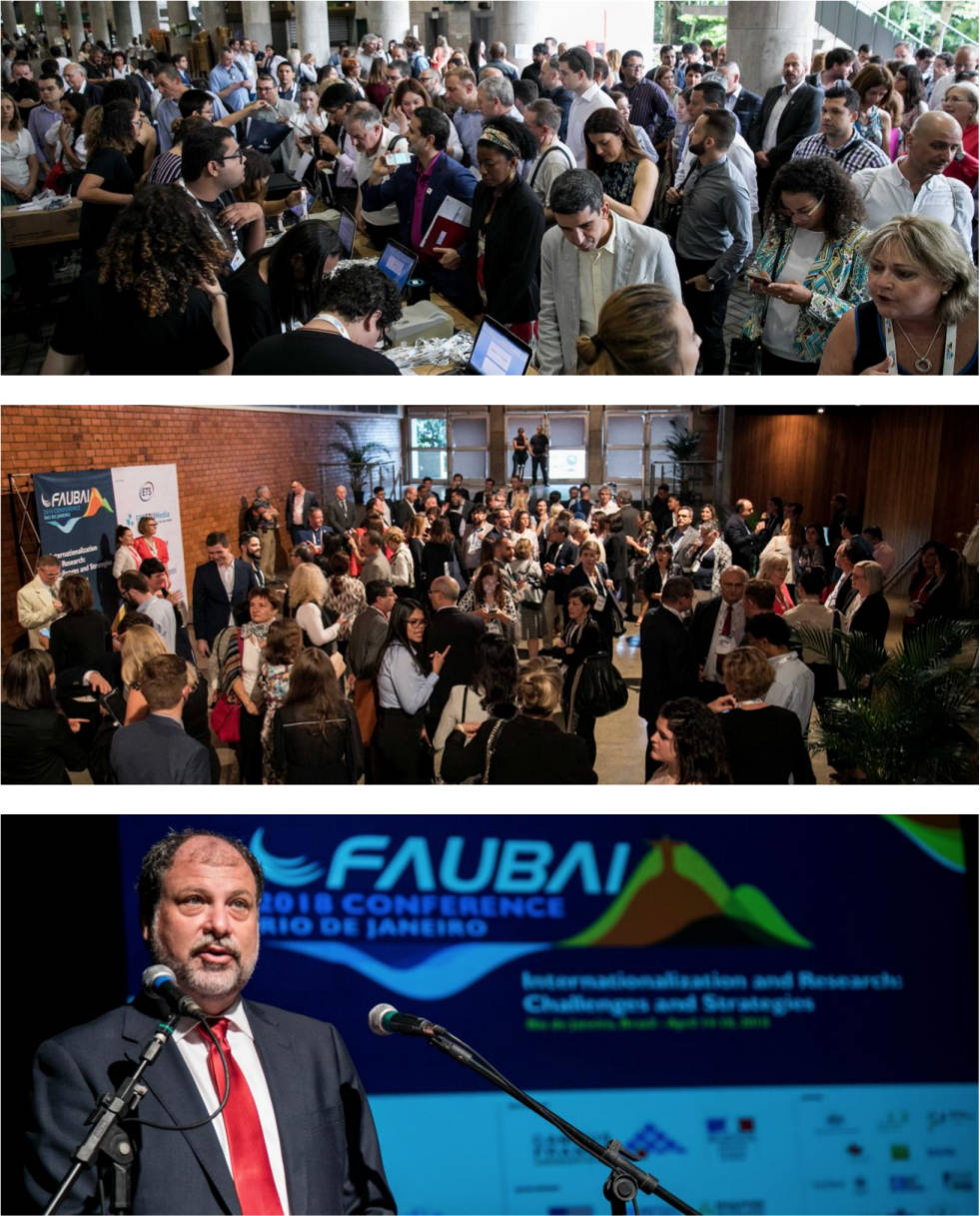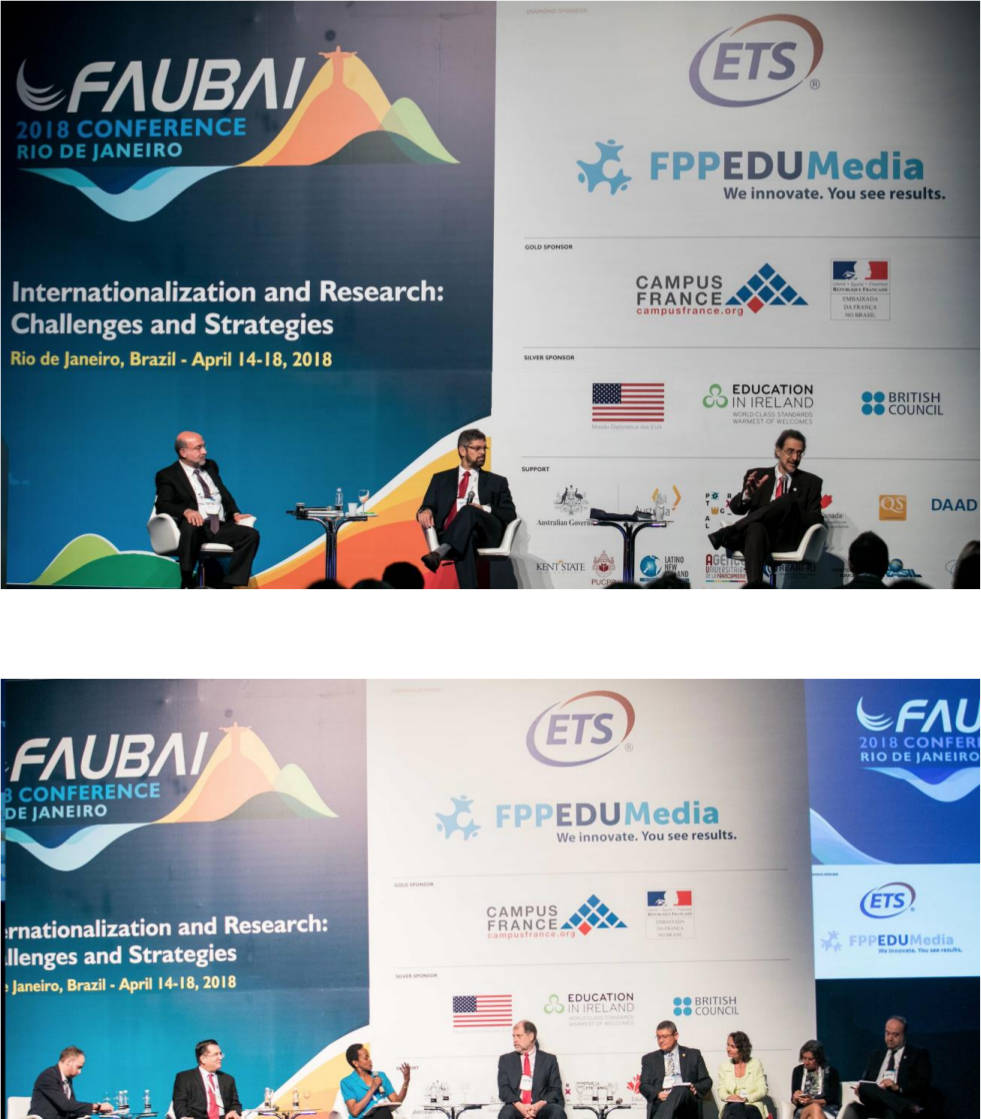 FAUBAI 2019 CONFERENCE
Belem, April 13 to 17, 2019